Approval Granted for 'Exceptional' New Home in Huntingdon.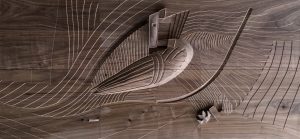 At their planning meeting on March 19th Huntingdon District Council gave approval to our 'Landart House' scheme – a fusion of landscape art and inhabited building which has been the outcome of a collaboration between the artist Kate Whiteford and Hugh Cullum Architects.
The permission was granted under paragraph 55 legislation for a house and landart in a large plot of land in a village on the outskirts of Huntingdon. The site will be sculpted with waves of grass and ridges of earth reminiscent of ridge and furrow agriculture. In its centre rises a large mound on which Whiteford has created a white land drawing. The house is folded into this extraordinary landscape and its long white roof floats over the land drawing as the culmination of a series of white lines, recalling the feathers of a bird's wing, that Whiteford has etched into the surface of the mound.
The house is simply arranged under the dominant roof as a living platform, with perimeter glazing, suspended over a ground level pool. An existing listed thatched cricket pavilion on the edge of the site will be restored and its numerous existing inappropriate extensions will be demolished and replaced by a single small elegant addition. There will be a viewing tower amongst trees at the edge of the site which will be open on four weekends each year for members of the public to be able to see the entire land art project from the centre of its perspective geometry.
The walnut model of the Landart House proposal will be exhibited at the Royal Scottish Academy of Art and Architecture Annual Exhibition 2018 in Edinburgh, and is shortlisted for the Royal Academy Summer Exhibition 2018 in London.
The councillors on the planning committee voted almost unanimously in favour of our proposals and went out of their way to praise its innovative and exciting approach.
Our clients, Neil and Liane Greatorex, have been stoic, tenacious and entirely supportive during the lengthy process of getting a paragraph 55 submission past the line.
Architect – Hugh Cullum Architects
Artist – Kate Whiteford OBE RSA
Landscape architect – Jonathan Bell Studio
Structural Advisers – Atelier One
Environmental Consultants- Peter Deer Associates
Planning Consultant- Simply Planning
Heritage Consultant- Heritage Collective